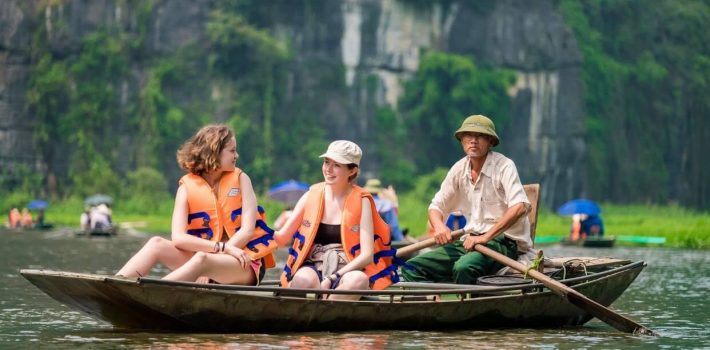 Bai Dinh – Trang An at Ninh Binh
Itinerary 
8:00 – 8:30: Tour guide and car pick you up at your address to depart for Ninh Binh province (100 Kms).Start Bai Dinh – Trang An Tour.
On the way, you will have chances to take the outlook of Vietnam rice fields with the harding-working farmers doing their working in the large rice fields
10:30 – 12:00: Arrive in Buddha Prayer place in Bai Dinh Pagoda, the biggest pagoda.
The most important emphasizing point of these great religion works are Tam The Temple and  Phap Chu Temple. Two temples cover a total  area of 1,000 square meters . The height of  Phap Chu Temple is up to 22m and it contains five partitions . In the centreof  this temple is a bronze Buddha Sykamuni statue with 10 meters high and 100 tons  heavy which is certificated as the biggest statue in Vietnam. This statue is casted by the pure bronze bought from Russian, casted and installed by the famous artisans of casting bronze statue in Y Yen, Nam Dinh . Moreover, there are several national records  in this temple such as three largest horizontal lacquered boards(hoành phi) and three biggest "CuaVong" ( a kind of door which is  sophisticatedly sculpted and engraved ) .In Tam The Temple , there are three Tam The statues representing the past, the present and the future. Each statue is 12 m high and weighs 100 tons.
Another special feature in Bai Dinh pagoda is "Great Bell" with the weight of 36 tons was casted and located in Bell Tower. In addition, there is 70 -ton bronze drum on the floor of the Tower. What's more, coming to Bai Dinh pagoda, visitors have a chance to see the biggest Avalokitesvara Bodhisattva statue in Bodhissattva Temple. This statue looks so marvellous with thousand hands and eyes to present the protection and universal salvation for common people.
Furthermore, visitors will be astonished at the collection of 500 Arahat statues on the hill on the right – hand side of Phap Chu Temple. The 500 Arhat statues with the height of 2.3m, carved by Ninh Binh stone have different positions and gestures that create magic space and lively atmosphere.
Without a doubt,  Bai Dinh pagoda is masterpiece of both nature and men and it is the pride of Vietnamese people in terms of  unique architecture, culture and historical value
12:30: Have lunch in local restaurant with some local special dishes such as Goat meat with elderberry, pork ….
14:30:
 We will transfer from Bai Dinh to Trang An. Trang An has limestone system and natural various caves.Trang An is considered as  Ha Long Bay on the land.In Trang An tourist attraction,we  take boat trip to visit cave complex: Sang Cave, Toi Cave, Ba Giot Cave, NauRuou in mystery and wildness, see scenery of mountain and rivers..Coming to Trang An eco-tourism complex, tourists can enjoy the grandeur of the mountains, explore majestic caves and have a pure of relaxation with the spiritual culture of Bai Dinh Pagoda.
16:00: Getting on the car for returning to Hanoi.
16:30: Back to Hanoi and get drop off at your hotel in Hanoi. Bai Dinh- Trang An Tour ends.
Inclusions
– Pick up and drop off at your hotel with modern car with air-conditioner
– 1 bottle of water/tour/person
– Enthusiastic, experienced driver & English speaking guide
– Vietnamese lunch at local restaurant
– Electric car
– Entrance fees & boat
– Insurance.
Exclusions
– Tips, personal expense, drinks.
– Anything not explicitly mentioned above is not included in the price
What to bring
– Long sleeve clothes,
– Hat or umbrella,
– Sun cream,
– Sunglasses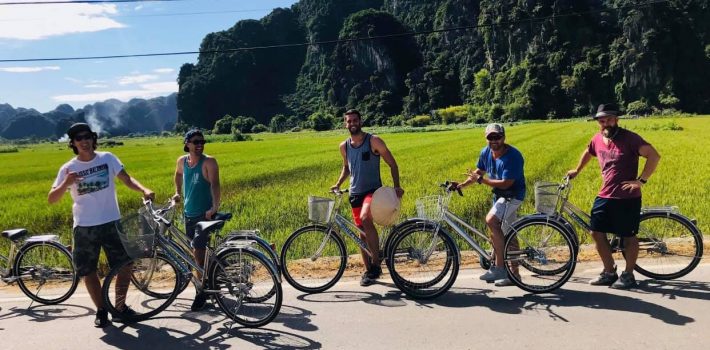 Hoa Lu Tam Coc at Ninh Binh
Itinerary
8:00-8:30: Hanoi Journey Tour guide will pick you up from your hotel in Old Quarter to depart to start Hoa Lu- Tam Coc Tour
10:30-11:00: You will reach Hoa Lu Ancient Capital.
In 968, Dinh Bo Linh declared himself as the King. Since then Hoa Lu existed as the capital for the next 41 years (968 – 1009), of which 12 years was under the Dinh dynasty – King DinhTien Hoang, the country named Dai Co Viet, and 29 years later was under the Le dynasty – King Le Dai Hanh. In 1010, King Ly Thai Tomoved the capital from Hoa Lu to Thang Long – present day Hanoi. Hoa Lu became the old citadel. In Hoa Lu there are now 2 temples have been built on the ground of the old royal palace, one is dedicated to King DinhTien Hoang, the other is to King Le Dai Hanh. The visit offers a chance to know more about part of feudal dynasties and historical periods in Vietnamese history.
Hoa lu – Tam Coc Ninh Binh Tour is perfect combination for a day trip to learn about a dark period when Vietnam was invaded by Northern Invader. Hoalu is a sacred land with two temple worshiping those kings in 10 century who gave great contribution for the nation. Next, lets take a boat trip along the Ngo Dong river to enjoy landscape in Tam Coc. You will know why its named Halong Bay on Land…
12:00: Today you will enjoy buffet lunch at local restaurant in Tam Coc named Duc Tuan restaurant. The food is served with Asian stype, local dishes, organic vegetable. The Duc Tuan is located on the river overview Tam Coc, you can enjoy the view of overal riverside until you finish your lunch
13:30: After finishing your lunch, you will be taking the rowing boat at Tam CocHarbour. Arranged by local people here, the boat is rowed by both hand and legs. The boat will take you to 3 specular caves with hundreds of limestones  on the way. Hoa Lu limestone mountain-NinhBinh is also known as "Halong Bay on land"If you travel during harvest season, you will see many terrace rice fields in golden colours.
The boat rowing will be in around 2 hours. Not only you could see the peaceful scenery of mountain, rice paddy fields, temples, you also have chances to learn about local people cultures on their daily life.
Optional activities: Riding bicycles or buffalow rides.
4:00pm: Leave Tam Coc and drive back to Hanoi. Arrive Hanoi at around
6:30pm: Finish unforgettable full day trip at your hotel in Hanoi!
Inclusions
Shuttle bus with air-conditioning (Hanoi – Hoa Lu – Tam Coc – Hanoi)
Boat trip on on Ngo Dong River rowing by local people
Entrance fee
Lunch
English speaking guide.
10% Government tax and 5% service charge
Bicycle Ticket
Exclusions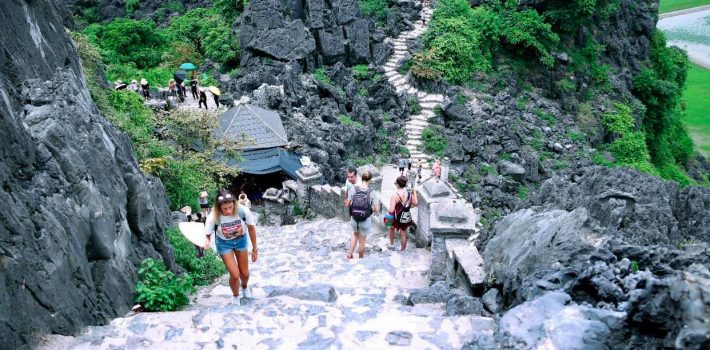 Ninh Binh is a beautiful province which located in the northwest of Viet Nam. This province has many beautiful landscape such as Hoa Lu Ancient Capital, Tam Coc – three caves, Trang An tourism complex,Mua Cave, Thung Nham, Bich Dong, Phat Diem Church, Van Long, Kenh Ga, Cuc Phuong National Park ….The 1 day trip to Ninh Binh is best choice for any tourist who has not much time in the northern Vietnam. Travel with us – leave your worry behind.
7h30-8h00: Ninh Binh Excursion Luxury's tour guide picks you up at suggested hotels around the old quarter.
9h30-9h45: Visiting Hoa Lu- ancient capital of Vietnam from 986-1010. Where you can learn more about the first feudal government of Vietnam.
10h30: Visiting Mua Cave, where you can get the impressive panoramic view of Tam Coc and Ninh Binh city when you reach the top point of Ngoa Long mountain.
12h00: Enjoy lunch with plenty of traditional foods such as: spring rolls, goat meat…etc.
13h00: Discovering Tam Coc on the sampan (bamboo boat). With nearly 2 hours, tourists will have chance to mix with the local life, river, limestone mountains, fields… Passing through 3 caves: Hang Ca- first cave, Hang Hai- second cave, Hang Ba- the third cave by boat will bring to you excited feeling
15h00: Cycling: With 1 hour of cycling you will be amazed by the beauty of countryside in the North of Vietnam. Our tour guide will introduce to you the architecture of the traditional house and the life of local family.
16h00: Sunset party at the swimming pool: After discovering the amazing beauty of Ninh Binh by walking, hiking, cycling, tourists can relax by swimming, drinking local tea, fresh fruits while the Sun is setting (swimming in the allowable condition)
16h45: Says good bye Ninh Binh
18h45: Finish your unforgettable trip at your hotel in Hanoi
​
HIGH LIGHT

Airport Drop off Service FOC from Hanoi ( for group > 2 pax)

Small group with maximum of 15 people
Luxury transportation- limousine
Professional and friendly tour guide
Swimming activity
Sunset party

EXCLUDING
INCLUDING:

Lunch with Vietnamse cuisine
Visiting-site tickets
2 bottles of water

SHOULD BRING:

Hiking shoes
Sun cream
Cash
Swimming suits
CHILDREN POLICY:
Child from 10 and above charge as adult
Child from 5 to 9 charge 75% adult
Child under 5 free charge
2 adults only share with 1 child. The second child will be charged 75% adult