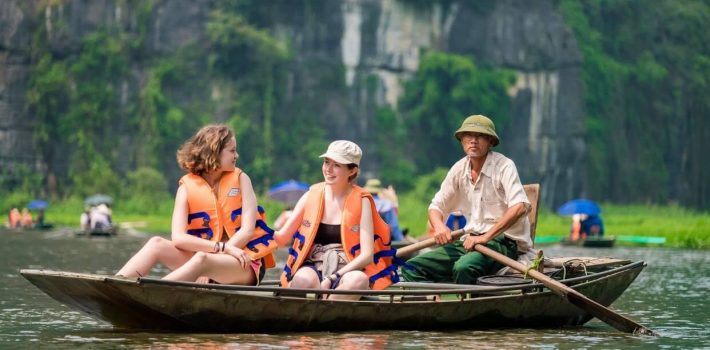 Bai Dinh – Trang An at Ninh Binh
Itinerary 
8:00 – 8:30: Tour guide and car pick you up at your address to depart for Ninh Binh province (100 Kms).Start Bai Dinh – Trang An Tour.
On the way, you will have chances to take the outlook of Vietnam rice fields with the harding-working farmers doing their working in the large rice fields
10:30 – 12:00: Arrive in Buddha Prayer place in Bai Dinh Pagoda, the biggest pagoda.
The most important emphasizing point of these great religion works are Tam The Temple and  Phap Chu Temple. Two temples cover a total  area of 1,000 square meters . The height of  Phap Chu Temple is up to 22m and it contains five partitions . In the centreof  this temple is a bronze Buddha Sykamuni statue with 10 meters high and 100 tons  heavy which is certificated as the biggest statue in Vietnam. This statue is casted by the pure bronze bought from Russian, casted and installed by the famous artisans of casting bronze statue in Y Yen, Nam Dinh . Moreover, there are several national records  in this temple such as three largest horizontal lacquered boards(hoành phi) and three biggest "CuaVong" ( a kind of door which is  sophisticatedly sculpted and engraved ) .In Tam The Temple , there are three Tam The statues representing the past, the present and the future. Each statue is 12 m high and weighs 100 tons.
Another special feature in Bai Dinh pagoda is "Great Bell" with the weight of 36 tons was casted and located in Bell Tower. In addition, there is 70 -ton bronze drum on the floor of the Tower. What's more, coming to Bai Dinh pagoda, visitors have a chance to see the biggest Avalokitesvara Bodhisattva statue in Bodhissattva Temple. This statue looks so marvellous with thousand hands and eyes to present the protection and universal salvation for common people.
Furthermore, visitors will be astonished at the collection of 500 Arahat statues on the hill on the right – hand side of Phap Chu Temple. The 500 Arhat statues with the height of 2.3m, carved by Ninh Binh stone have different positions and gestures that create magic space and lively atmosphere.
Without a doubt,  Bai Dinh pagoda is masterpiece of both nature and men and it is the pride of Vietnamese people in terms of  unique architecture, culture and historical value
12:30: Have lunch in local restaurant with some local special dishes such as Goat meat with elderberry, pork ….
14:30:
 We will transfer from Bai Dinh to Trang An. Trang An has limestone system and natural various caves.Trang An is considered as  Ha Long Bay on the land.In Trang An tourist attraction,we  take boat trip to visit cave complex: Sang Cave, Toi Cave, Ba Giot Cave, NauRuou in mystery and wildness, see scenery of mountain and rivers..Coming to Trang An eco-tourism complex, tourists can enjoy the grandeur of the mountains, explore majestic caves and have a pure of relaxation with the spiritual culture of Bai Dinh Pagoda.
16:00: Getting on the car for returning to Hanoi.
16:30: Back to Hanoi and get drop off at your hotel in Hanoi. Bai Dinh- Trang An Tour ends.
Inclusions
– Pick up and drop off at your hotel with modern car with air-conditioner
– 1 bottle of water/tour/person
– Enthusiastic, experienced driver & English speaking guide
– Vietnamese lunch at local restaurant
– Electric car
– Entrance fees & boat
– Insurance.
Exclusions
– Tips, personal expense, drinks.
– Anything not explicitly mentioned above is not included in the price
What to bring
– Long sleeve clothes,
– Hat or umbrella,
– Sun cream,
– Sunglasses