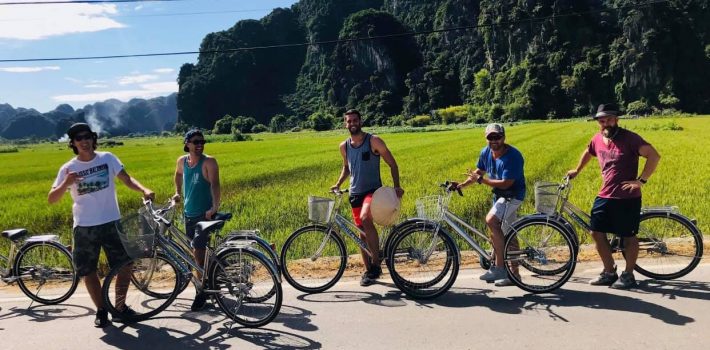 Hoa Lu Tam Coc at Ninh Binh
Itinerary
8:00-8:30: Hanoi Journey Tour guide will pick you up from your hotel in Old Quarter to depart to start Hoa Lu- Tam Coc Tour
10:30-11:00: You will reach Hoa Lu Ancient Capital.
In 968, Dinh Bo Linh declared himself as the King. Since then Hoa Lu existed as the capital for the next 41 years (968 – 1009), of which 12 years was under the Dinh dynasty – King DinhTien Hoang, the country named Dai Co Viet, and 29 years later was under the Le dynasty – King Le Dai Hanh. In 1010, King Ly Thai Tomoved the capital from Hoa Lu to Thang Long – present day Hanoi. Hoa Lu became the old citadel. In Hoa Lu there are now 2 temples have been built on the ground of the old royal palace, one is dedicated to King DinhTien Hoang, the other is to King Le Dai Hanh. The visit offers a chance to know more about part of feudal dynasties and historical periods in Vietnamese history.
Hoa lu – Tam Coc Ninh Binh Tour is perfect combination for a day trip to learn about a dark period when Vietnam was invaded by Northern Invader. Hoalu is a sacred land with two temple worshiping those kings in 10 century who gave great contribution for the nation. Next, lets take a boat trip along the Ngo Dong river to enjoy landscape in Tam Coc. You will know why its named Halong Bay on Land…
12:00: Today you will enjoy buffet lunch at local restaurant in Tam Coc named Duc Tuan restaurant. The food is served with Asian stype, local dishes, organic vegetable. The Duc Tuan is located on the river overview Tam Coc, you can enjoy the view of overal riverside until you finish your lunch
13:30: After finishing your lunch, you will be taking the rowing boat at Tam CocHarbour. Arranged by local people here, the boat is rowed by both hand and legs. The boat will take you to 3 specular caves with hundreds of limestones  on the way. Hoa Lu limestone mountain-NinhBinh is also known as "Halong Bay on land"If you travel during harvest season, you will see many terrace rice fields in golden colours.
The boat rowing will be in around 2 hours. Not only you could see the peaceful scenery of mountain, rice paddy fields, temples, you also have chances to learn about local people cultures on their daily life.
Optional activities: Riding bicycles or buffalow rides.
4:00pm: Leave Tam Coc and drive back to Hanoi. Arrive Hanoi at around
6:30pm: Finish unforgettable full day trip at your hotel in Hanoi!
Inclusions
Shuttle bus with air-conditioning (Hanoi – Hoa Lu – Tam Coc – Hanoi)
Boat trip on on Ngo Dong River rowing by local people
Entrance fee
Lunch
English speaking guide.
10% Government tax and 5% service charge
Bicycle Ticket
Exclusions