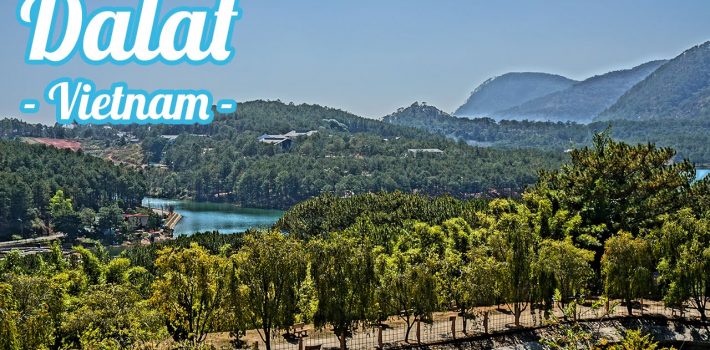 How to visit in Dalat
Choice motorbike as a means for sightseeing in Dalat will help you take the initiative in your journey, the rental is 100 thousand VND/ day. The rental location is located at the gate of Dalat Market, Nguyen Thi Minh Khai Street or Bui Thi Xuan Street. Because Da Lat has many passes, bends and steep slopes, motorbikes will be more suitable during the journey to explore all corners of the city.
However, if you travel in Vietnam Small Group Tours or travel with families, renting a car or taking a taxi will be more appropriate and saving because both elderly people and children will not like to try the feeling by motorbike.
Da Lat tourist spots you should come
The famous waterfall should not be missed:
Pongour Waterfall: Located in Duc Trong district, about 50km from Da Lat, also known as Thien Thai waterfall. Pongour is a seven-storey waterfall with a height of nearly 40m, width of 100m, surrounded by rich vegetation.
Prenn Waterfall: During the rainy season, the waterfall flows so strongly making any travellers seem to have been mesmerized by majestic natural beauty. From the Prenn waterfall you can admire the whole large pine hill.
Dambri falls: create two extremely majestic flows with a height of 40m. To climb the top of the falls, you just walk about 138 steps. At the same time, Dambri has a thrilling game of sliding 1.650m long which makes young people excited. Also, tourists on Vietnam package Tours can set fire to the camp, play games, explore the primaeval forest, or sip coffee and go sightseeing.
Datanla Waterfall: consists of 7 layers of rocky mountain, looking so overwhelming. In addition to watching the majestic beauty of the waterfall, you also have the opportunity to experience the game in waterfalls very interesting and attractive.
Cam Ly waterfall: is only about 10m high but still gentle and no less powerful. Waterfall has been in the famous poetry associated with the image of Da Lat.
Voi waterfall or another name is Lieng Rowoa waterfall. The waterfall is 25 km south-west of Da Lat with a height of 30m and the width of 15m. Behind the waterfall, there are mysterious caves like Doi cave (Bat cave), Gio Cave (wind cave) which are always highlights for visitors on Tours in Vietnam to explore.
The beautiful lakes
Xuan Huong Lake: a symbol of Dalat is located in the centre of the city is crescent shaped. In the early morning and late evening always crowded with local people and travelers walking around the lake. Xuan Huong Lake offers many services for renting bicycles, duck Pedal Boats, enjoy a coffee along the lake. If you like this place you can choose a hotel near Xuan Huong Lake for easy sightseeing.
Da Nhim Lake: also known as Don Duong Lake, located in the town of Dran, 40km away from Da Lat. The lake has a beautiful nature in harmony with the flowers garden. From here you can explore Ngoan Muc Pass – one of the largest passes in Vietnam.
Tuyen Lam Lake: There are many small colorful flower gardens around. The lake is about 7km from the city center and is surrounded by primitive forest with fresh and cool air.
Dankia Lake – Golden Lake: 12km from the center of the city, you will find the scenery the fairyland. When you come here for sightseeing, you can choose here as a picnic spot.
Than Tho Lake: located in the northern part of the city is located on the high hill surrounded by pine forest. To feel the beauty of Than Tho Lake you should walk on the green grass around which there are many activities for you to participate in.
In addition, To enjoy the most beautiful sightseeings in Vietnam by your eyes, you can see some itineraries below Halong Bay Cruises – Hanoi Tour – Vietnam Tours – Sapa Tours – Package Tours or book a private car to discover where ever you want to enjoy the Vietnamese taste.