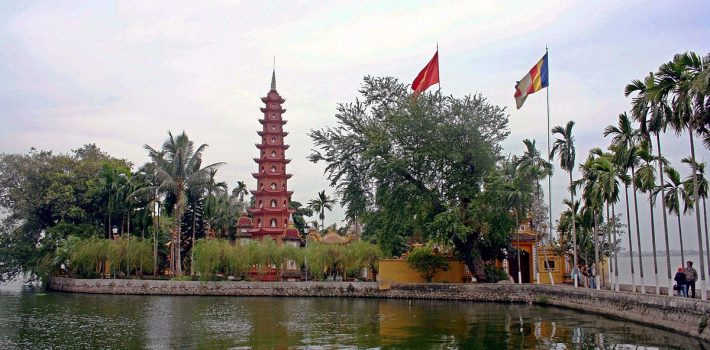 Tran Quoc Pagoda is located on a small peninsula in the southeastern shore of West Lake, near the end of Thanh Nien street, Ba Dinh district, Hanoi. It's the oldest ancient Buddhist pagoda in Hanoi in particular and in Vietnam in general with the history line of more than 1450 years. Visiting Tran Quoc always is the most popular choice for visitors of Vietnam package Tours when they come to Hanoi at the first time.
History of Tran Quoc Pagoda
Tran Quoc Pagoda was built under the reign of Emperor Ly Nam De Dynasty (544-548) on the bank of the Red River, outside of the Yen Phu Dyke. At the first time, it was originally known as Khai Quoc Pagoda, which means National Founding. Later, the temple was moved to a Kim Ngu (Golden Fish) islet of West Lake in 1615 because of the river's encroachment where it is situated until now. After some renaming times, the pagoda finally was named Tran Quoc (Protect the Nation) in 1628 under King Le Than  Tong's reign.
Over hundreds of years, Tran Quoc Pagoda is considered as a cultural symbol of Vietnam Buddhism
Majestic landscape and Buddhist architecture of Tran Quoc Pagoda
The architecture of pagoda is a harmonious combination between the majestic, the antiquity and the charming watery background. It makes Tran Quoc pagoda as beautiful as a picturesque attraction.
The overall structure and interior of the pagoda are arranged in order and strictly of  Buddhistic principles, including the main sanctuary, reception hall, worship house, etc. Many layers of the house with tree main house are connected to the shape of the word (工). A pagoda is a place of worship of Budda as well as of cultural and spiritual activities of Vietnamese people.
Particularly, there are many lotus flower statues engraved in the stone wall at the side of Tran Quoc Pagoda. The lotus flower represents one symbol of fortune in Buddhism. It symbolizes the enlightenment, purification of mind, body and rebirth speech as well as represents the rebirth.
Furthermore, Tran Quoc pagoda is compared to a small museum of ancient worship statues and priceless antiques. They were carved and polished meticulously by the skillful hands of craftsmen. That a reason why these spectacular facial features impress many tourists of Hanoi City tour.
On the ground of Tran Quoc Pagoda is a Bodhi tree, which is a branch of the original Bodhi tree in Bodh Gaya, India. The Buddha sat and achieved enlightenment after his 49 meditation days under that tree in more than 25 centuries ago. In 1959, the Indian president offered that bodhi tree to Vietnam as a present of friendship.
Today, Tran Quoc Pagoda still plays an important role as a national historical monument and religion of Vietnam. It is one of the attractions for many Buddhists, domestic and foreign tourists of Hanoi City Tour. Don't miss Tran Quoc Pagoda in your travel schedule.
Additional, To enjoy the most beautiful sightseeings in Vietnam by your eyes, you can see some itineraries below Halong Bay Cruises – Hanoi Tour – Vietnam Tours – Sapa Tours – Package Tours or book a private car to discover where ever you want to enjoy the Vietnamese taste.