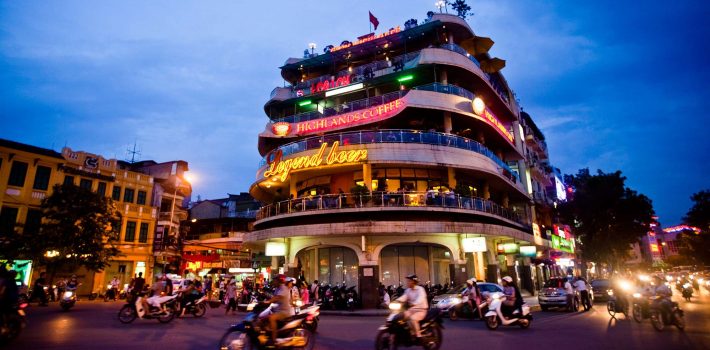 The beautiful scenery in Vietnam always have suction power list for visitors, brings people to the extremely interesting journey. Each destination will help you discover more things about culture as well as the rich cuisines of each region across the S-shaped strip of land. Every season, there are many tours in Vietnam with variety places in this land. If you want to travel in Vietnam, you should find information details about where you want to come such as: how to go Vietnam, famous sightseeing, special food, people, etc…In this writing, I would like to tell you about best destination here, it is Hanoi – peace city of Vietnam, where you cann't miss if you come to Vietnam. Due to being the capital of the country, it should have so many daily flights from other cities to Hanoi. You can refer to the price of other airlines such as Jetstar Pacific, Vietjet Air, or Vietnam Airlines.
Hanoi is Vietnam's capital and is also a city of tradition, history, and culture. The old town attracts visitors with its ancient streets and craft featured monuments such as the Temple of literature (Vietnam's first University, and the University is also the only feudal existence in our country). Meanwhile, newer works such as Sofitel Metropole in the bold mark on French colonial period. The French quarter has a Large Theater and one pillar pagoda, two famous attractions not to be missed when traveling to Hanoi. The monuments and other attractions in Hanoi including Ho Chi Minh Mausoleum, the sword Lake, Ngoc son Temple, West Lake, the perfume pagoda and famous museums such as the Museum of Ethnology.
You also experience special foods such as Nem, Phở,  Bún thang, Lã Vọng grilled chopped fish or ice-tea in the pavement. Everything all bring Hanoi character. Some beautiful places to take a photo are Nhật Tân flower garden, Yên Viên stadium, Long Biên bridge, Temple of literature, Imperial Citadel of Thăng Long, Middle of red river, flower village Tây Tựu, ect… Besides, there are many coffees for you to relax between this crowed city such as Giảng (With Giảng, Besides the countless similar cafes in Hanoi, Giảng coffee bring back delightful old space on ideas like a found treasure. The Inn is located in a very small and deep lane on the city of Nguyen Huu Huan, but special rendezvous of lovers of coffee eggs). Tranquil (Like the name "Tranquil" (meaning peace), located in a small alley, there is separate space with bustling streets outside of Hanoi. Inside the cafe in the city of Nguyen Quang Bich has many books, suitable for those who want to find a place to read and enjoy a drink. If you want to have fun, comfortable seats, this is not at all consistent stops for you).
Moreover, there are Hanoi hotels where some tourists are favorite like Somerset Grand Hotel, Mường Thanh Grand Hotel, Novotel Suites….
From Hanoi, you can move to nearly place easily to visit, a popular site is Bát Tràng pottery village. It's far from Hanoi's city centre 20 km on the left bank of the Red River, you can ride the motorbike or bus to get to this place. For a long time, Bat Trang is a famous pottery production and quality across the country. You can wander around the villages, there are a lot of pottery, the road around the village are the walls charcoal unique exposure or rustic antique houses. If here, you can walk out near the River, there is a unique mean of transport to help you discover that bat Trang is the "Buffalo car". In the small pottery, you can manually create the ceramic product Favorites or draw up the grains, the souvenir ceramic gifts for friends, relatives.
There is something I know about Hanoi – best destination in Vietnam. I hope that it's useful for you when you come there. Have a nice trip!
In addition, To enjoy the most beautiful sightseeings in Vietnam by your eyes, you can see some itineraries below Halong Bay Cruises – Hanoi Tour – Vietnam Tours – Sapa Tours – Package Tours or book a private carto discover where ever you want to enjoy the Vietnamese taste.