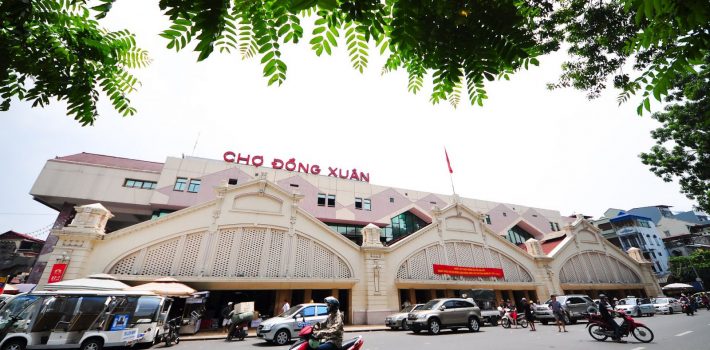 Hanoi with a long history and a deep culture is a must-see city that any traveller come to Vietnam should take a chance to visit. There are many destinations and activities that you should try once coming Hanoi. Joining a Hanoi one Day Tour or visiting this city in your Vietnam package tours, you also absolutely can explore by yourself. This article will show you famous destinations for any one would like to discover the beauty hidden inside of Hanoi.
Dong Xuan Market
This is one of the most popular markets in Hanoi with vareity of goods. This market provides mostly for wholesales therefore if you by in retailed, the price may be higher a little. Visiting Dong Xuan market, you will see the busy purchasing process of the Vietnamese.
O Quan Chuong (the city gate)
This is one of the five gates left over a long period of time.
Bach Ma Templet
This is the ancient temple built from the Ly dynasty. If you are a fan of the Vietnamese history, you should visit this temple to understand more about the history and the culture of Vietnam and Hanoi as well.
The "Heritage House" at 87 Ma May Street
This is a typical house of the Hanoian. You will see the structure and the decoration of the aceint house in 20th
Café Shot 60 Phat Loc

Located at Phat Loc Ashley, this cafe restaurant has a nice view and space for customers to enjoy a cup of coffee and enjoy photos on the walls.
Fresh beer at Luong Ngoc Quyen Street
Come there and you can enjoy Hanoi fresh beer. It is nice to enjoy a cup of fresh beer in the evening, in particular in the summer.
Hong Lam O Mai at 11 Hang Duong
This is a a reliable address for you to buy "o mai" as gifts for your friends and family members.
Banh My (Vietnamese Sandwich) at 25 Hang Ca
Opened from 7.00 am to 8.00 pm. Banh My here is made of fresh ingredients with tradtional taste and favor by many Vietnamese people as well foreign.
Those adresses in the list above are the popular ones that you should try to visit when traveling to Hanoi. In addition to those things, if you have one free day in Hanoi. In addition, To enjoy the most beautiful sightseeings in Vietnam by your eyes, you can see some itineraries below Halong Bay Cruises – Hanoi Tour – Vietnam Tours – Sapa Tours – Package Tours or book a private carto discover where ever you want to enjoy the Vietnamese taste.