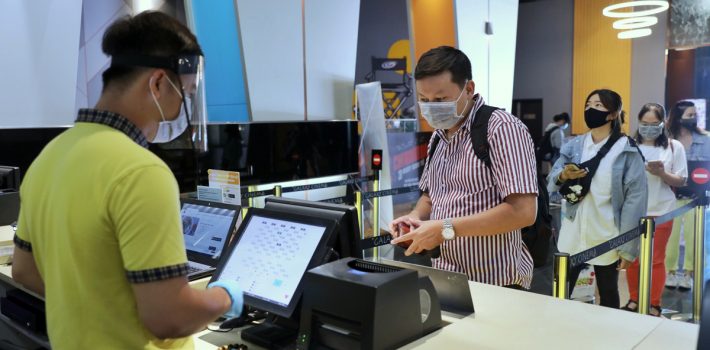 A dearth of releases and Covid-19 fears keep audiences away from cinemas, which are hoping for a revival after a long ordeal.
As of September 9, Hollywood blockbuster "Tenet", seen as a cinema savior amid the pandemic, has failed to help theaters get back on their feet.
In 12 days since its release in Vietnam the long-awaited sci-fi movie directed by British filmmaker Christopher Nolan has earned around VND25.7 billion ($1.1 million), according to Box Office Vietnam.
In the same period, Hollywood hits "Caption Marvel" and "Spider-Man: Far From Home" respectively collected VND110 billion and VND112 billion last year.
Ten other movies running in cinemas have fared much worse with revenues of less than VND10 billion each.
Though the pandemic has been controlled to a great extent and the movie industry is warming up after the Covid-19 hibernation, the specter of Covid-19 seems to continue hanging over cinemas across Vietnam, with many screens again shut by the new infection wave of July and August.
A representative from CGV, the country's largest cinema chain, said it had closed nine of 82 cinemas across seven provinces and cities after the new Covid-19 outbreak hit central Da Nang City late July.
In August, popular chains like Galaxy Studio, Lotte and Beta Cineplex also shut locations where Covid-19 social distancing was imposed to contain the pandemic, including central Hoi An Town, southern Dong Nai Province, Central Highlands Buon Me Thuot Town.
Closure has plunged the cinema business into an upheaval.
"The situation is so dire that people think 30-40 percent of last year's ticket sales will be good enough," Nguyen Thi Mai Hoa, cinema manager at Galaxy Studio, told local media.
The closure of around 10 percent of cinemas is not a worrying issue, but the low number of moviegoers is, she said.
Covid-19 drama
Covid-19 fears have prevented movie fans, especially families with children, from going to cinemas where crowds and closed spaces could spread the novel coronavirus.
Audiences are uncomfortable in public because of the pandemic, with cinemas taking a long time to recover, according to director Nguyen Quang Dung.
Big screens face a dilemma since more and more people have grown used to streaming films at home amid the pandemic, enjoying a greater choice of movies, and web dramas.
They do not want to return to theaters unless there is something good enough to attract them, many movie lovers said.
A young man who had come to see "Tenet" at a CGV cinema in Hanoi's Long Bien District said: "I have more choice of movies and web series at home; movies in cinemas at the moment are boring."
Nguyen Quoc Khanh, a spokesperson for CGV, said the long-drawn pandemic means people are only now slowly returning to their normal habits, while there is no blockbuster at the moment attractive to both adults and children.
An employee disinfects a CGV cinema. Photo courtesy of CGV.
A shortage of movies is another reason audiences are not coming.
Worried about the impact of the pandemic on ticket sales and profits, many producers and distributors have postponed their movies' release or are promoting them on streaming platforms.
"Rom", winner in the New Currents Award category at the Busan Film Festival in South Korea last year, was set for a July 31 release months after getting a screening license, but the second Covid-19 outbreak meant it was put off to the end of September.
Other Vietnamese movies such as "Ta Nang – Phan Dung" (Survive), "Lat Mat 5" (Face Off) and "Tiec Trang Mau" (Blood Moon Party) face a similar fate.
Foreign blockbusters like "Wonder Woman 1984" and "No Time To Die" will not hit cinemas any time before October.
Many cinemas have hunkered down by offering more promotions and showing old blockbuster to get moviegoers back.
Most have slashed the prices of tickets and food and beverages.
Hollywood movies like "Big Hero 6", "Captain America: Civil War" and "Inception" have been rescreened in the last few months.
Waiting for a blockbuster to attract more patrons to the big screen, many cinemas experience a dire outlook.
Industry insiders believe however that the love for movies has not gone away. Director Charlie Nguyen, whose movie is slated for a December release, explained: "To get more moviegoers like we used to have, the only option is to have a good movie, whether foreign or Vietnamese."