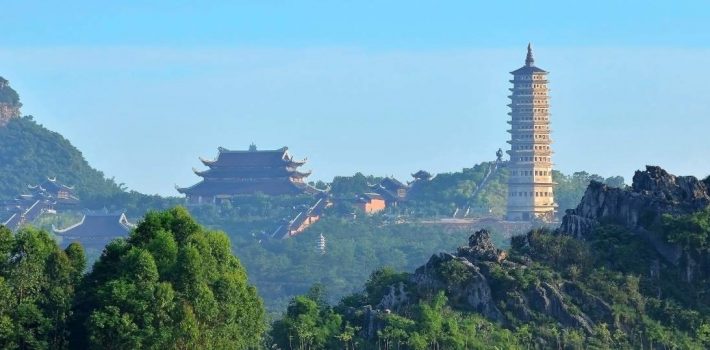 Far about 15 km from Ninh Binh city and 95 km from Hanoi, Bai Dinh Pagoda complex is worth an attraction not to be missed for any tourists thanks to its unique architecture and the significant spiritual values.
Bai Dinh Pagoda is located in Gia Sinh commune, Gia Vien district, Ninh Binh province. The complex of Bai Dinh Pagoda now consists of an ancient pagoda and a complex of new pagoda built in 2010. Far about 5 km from Hoa Lu Ancient Capital to the northwest and leaned back on Bai Dinh Mountain overlooking the valley, Bai Dinh Pagoda owns an area of about 3 hectares.  Architectural ensemble of new Bai Dinh Pagoda is situated on the campus of over 700 hectares with 20 items of work and many large architectural works hitting national records. The pagoda is under the construction project of Trang An cultural tourism center covering approximately 2,000 hectares and contributes to attract tourists to Ninh Binh travel.
3-gate entrance to Bai Dinh Pagoda
From Hoa Lu Ancient Capital (Ninh Binh), tourists take only 20km to get Bai Dinh Mountain. From 2-3km afar, 2 pagodas look like 2 giant lotuses steadily growing over the cliff with the towering curved roof in the blue sky. Started in 2004, to mid-2008, Bai Dinh Pagoda inaugurated the first phase and was scheduled for completion in 2015. Not only is it the largest pagoda in Vietnam, Bai Dinh Pagoda is also considered the largest pagoda in Southeast Asia. Designed extremely impressive with the massive scale of the project, the pagoda has attracted tourists to Ninh Binh tourism even though it was still under construction.
View from Bai Dinh Pagoda
Looking from the outside, like other pagodas in Vietnam, Bai Dinh Pagoda also retains 3-gate entrance. Behind the entrance is the 3-storey octagonal bell tower 24 roof hanging the great bronze bell weighing 36 tons with 5,40m high, 3.45m in diameter, which was implemented by artisan Nguyen Van Sinh in Phuong Duc ward, Hue city. He has also successfully casted 2 largest bells in Vietnam (27 tons and 36 tons) to Bai Dinh Pagoda. Across the bell tower in turn is "Tam Quan Noi" Temple, Phap Chu Temple, Avalokitesvara Temple and Dien Tam Temple. Additionally, there are also clusters of other architectures. The pagoda overlooks the river in the front and leans back on the hill in rear. This prime location has turned Bai Dinh Pagoda into one of the most impressive attractions in Ninh Binh.
Bell Tower at Bai Dinh Pagoda
Tam Quan Noi is entirely built with "tu thiet" wood – 4 kinds of the best and most solid wood – with the length of 32 m and 13.5 m wide. There are four pillars in Tam Quan Noi with 13.85 m high, 0.85 m in diameter and weighting about 10 tons each. Tam Quan owns 3 curved roofs in 4 directions and is roof-tiled with dark brown Bat Trang ceramic pipe tiles. This is a massive Tam Quan. In particular, there are10 bronze statue of Dharmapala, including two large statues with 5.5 meters tall and weighing 12 tons each.
Facade of Tam Quan Noi
Phap Chu Temple or Shakyamuni Temple is the big 8 roof temple worshiping the statue of Shakyamuni Buddha casted in bronze. The statue weighs 100 tons and retains10m high. The temple is built entirely of massive and monumental reinforced concrete with 30 m high, 47.6 m long and 43.3 m wide. Phap Chu Temple owns 5 compartments, the center of which is relatively large with 13.5 m long. The rest is divided into both sides with 8 m long each. Vietnam Book of Records confirmed the record "the highest and heaviest gilded bronze statue of Buddha Sakyamuni in Vietnam" for Bai Dinh Pagoda. The temple also retains 3 horizontal lacquered boards which is considered the largest in Vietnam and presents only at Bai Dinh Pagoda. In addition, Shakyamuni Temple has pair of the nation's biggest bronze cranes.
Behind Phap Chu Temple is Avalokitesvara Bodhisattva Temple. The temple was built entirely by large ironwood pillars with an area of 800 m2. It was 14.8 m high, 41.8 m long, 17.4 m wide and consists of 7 compartments. The top of the temple is 15 meters high where the statue of Avalokitesvara Bodhisattva casted in bronze with 11m high and weighing 70 tons. This is also the Vietnam's largest bronze statue of Bodhisattva Avalokitesvara.
Phap Chu Temple – Bai Dinh Pagoda
Located in the highest position, 76m above sea level is Tam The Temple (Past, Present and Future). It is the highest, widest and most spectacular temple in Bai Dinh Pagoda. The Temple is up to 34 m high, 59.1 m long, 40 m wide with the indoor area of about 3,000 m2. Inside Tam The Temple, there are also 3 horizontal lacquered boards and 3 gilded bronze statues of Buddha with 7.2 meters tall and weighing 50 tons each. Three statues also contribute to bring Bai Dinh Pagoda to reach a new record "The temple has the largest bronze statues of Buddha in Vietnam". In addition, downstairs of the Temple is Van Tam Chay Restaurant with over 100 vegetarian dishes and Loc Tai Buddhist souvenirs center.
Buddha statues at Tam The Temple
One of the most unique features in Bai Dinh Pagoda is the Arhat corridors with a total length of 1.8 km running along both sides from Phap Chu Temple down to Tam Quan Noi. 500 Arhat statues made of Thanh Hoa green stone lively show up under the talent of the artisans in Ninh Van stone carving village (Ninh Binh). Each corridor produces 250 Arhat statues. In particular, at the foothills of Bai Dinh Mountain, Gieng (Well) Ngoc surely attracts tourists thanks to fresh turquoise water, which was embellished and expanded in 2006. The well was rebuilt in moon shape with a diameter of 30 m, the water depth of 6 m and never runs out of water. The land surrounding the well is designed in square shape with an area of 6,000 m². Four corners of the well are 4 octagonal buildings. Vietnam Book of Records also confirmed the record "The pagoda owns the largest well in Vietnam".
Arhat corridors at Bai Dinh Pagoda
Located in an immense valley of lakes and mountains, Bai Dinh Pagoda deserves as one of the most beautiful pagodas in Vietnam. Tourists coming here not only have the opportunity to visit, go sightseeing the pagoda, but admire the feats of Buddhism in Vietnam. Bai Dinh Pagoda Cultural-spiritual tourism is one of the distinctive features of Ninh Binh tourism, strongly attracting both domestic and foreign tourists.
In addition, To enjoy the most beautiful sightseeings in Vietnam by your eyes, you can see some itineraries below Halong Bay Cruises – Hanoi Tour – Vietnam Tours – Sapa Tours – Package Tours or book a private car to discover where ever you want to enjoy the Vietnamese taste.