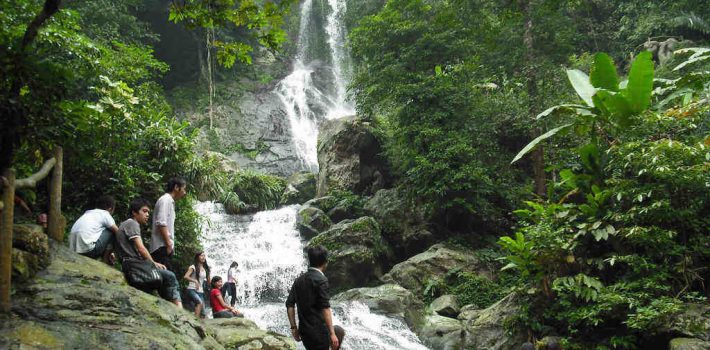 Ba Vi National Park is one of the most outstanding natural beauty in the North of Vietnam with majestic mountain, a fresh and cool climate and tropical rainforest. It has long become an ideal destination for domestic and foreign tourists. Go to Ba Vi National Park, tourists will be immersed amidst the magnificent natural scenery of the mountains and be told about a legend story of Son Tinh – Thuy Tinh.
Location
Ba Vi National Park is located in Ba Vi District of Hanoi and two districts Luong Son, Ky Son of Hoa Binh province with the total area 11.372 hectares. It takes about 60 kilometers from Hanoi center along highway 21A, 87.
Overview information
Ba Vi National Park is divided into three functional areas: Strict Conservation, Ecological Restoration, and Administrative Services.
In the middle of in the Ba Vi massif mountain range, the National Park is centered around a three-peaked mountain jutting steeply out of the landscape. Inside the park, there is certain mount with 1000 meters height. Some of the most famous mount in Ba Vi park, such as Dinh Vua (1296 meters), Tan Vien mount (1277 meters), Ngoc Hoa mount (1131 meters). Moreover, Ba Vi mountain has many waterfalls that offer a spectacular view for many tourists on Tours in Vietnam.
In addition, Ba Vi National Park has 1,209 species of plants, including 21 species of rare plants which are listed in the Red Book of Vietnam. The fauna has 63 species of mammals, with many rare species.
Ba Vi National Park Highlights
Cactus garden in Ba Vi is extremely diverse with over 1,200 varieties of cactus. Tourists of Hanoi one day tour obviously will have very execting experiences with the cactus inside glasshouse in Ba Vi. They will be free look at the different types of small and large cactus and take a photo with their friends and family.
There are many places to experience and explore from the foot of the mountain to the top of the mountain for the adventurous. Among them, the hill of pine in Ba Vi National Forest is another best-chosen destination for visitors as camping and resting.
Cuc Quy flowers hill is another place where many visitors come most to take photos and to save great moments for their trip. This kind of flower was planted by the French on Ba Vi mountain from the 30s of the previous century. The flowers only bloom for about 10 days to 2 weeks, starting from the middle of November in the calendar. The picture of yellow Da Quy flowers that bloom along both sides of the road melt even the frozen hearts.
The national park also offers some relax services for domestic and foreign tourists. Tan Da Spa Resort provide diverse services to suit every need of customers like experience hot springs, mud baths and herbal baths for individuals, couples or families. The resort is built in the style of an ancient palace and reminiscent of the houses once found in the Vietnamese northern delta region.
Ba Vi National Park is the ideal destination for you to enjoy the fresh air, relax and regain energy working for the new week. Let's check Vietnam package Tours now to have an enjoyable and memorable trip to Ba Vi National Park.
Additional, To enjoy the most beautiful sightseeings in Vietnam by your eyes, you can see some itineraries below Halong Bay Cruises – Hanoi Tour – Vietnam Tours – Sapa Tours – Package Tours or book a private car to discover where ever you want to enjoy the Vietnamese taste.